Light a 30 day Candle to Saint Anthony
With a donation of at least $10, your virtual candle to St. Anthony will remain lit for 30 days. Your intentions will be included in a weekly Mass during this period.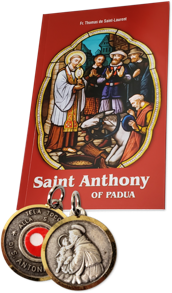 In addition, you will receive a gift sent by mail which includes:
-The book "Saint Anthony of Padua" by Fr. Thomas de Saint-Laurent
-And a Saint Anthony medal with a third class relic
To light your candle and submit your intentions, please fill out the form below...
* Sorry this offer is for US residents only!
For all other countries you will be provided with a link to download a St. Anthony book after lighting your 30 Day Candle.