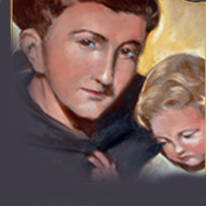 "I am Saint Anthony...
...faithful companion in your time of need. I am your great protector!"
"You know that whenever you have recourse to my intercession, you are taken care of!
"I have been waiting a long time for you because I know your situation, I know your needs and I know that you want to obtain help from the Lord through my intercession.
"I am ready to help you! Tell me your needs, open your afflicted heart to me. I will pour a drop of heavenly balm upon you to heal all your wounds and to make your pain disappear."
Take a moment and light your candle to St. Anthony at this virtual oratory. Click on the link of your choice below and submit your request to the great St. Anthony. Once your candle is lit, you will receive the immense benefits of a weekly Mass celebrated for your intentions for as long as your candle remains lit.
Ask Saint Anthony!
Please, St. Anthony, take care of my children! I entrust them to your special care.
Please, St. Anthony, encourage my parents as they grow old and suffer from disease. Please restore their health or at least relieve their pain.
Please, St. Anthony, find my friends who have lost their way and bring them back to God! Shine light into their darkness.
Please, St. Anthony, make sure that I keep my job and that my spouse and I always have the income that we need.
Please, St. Anthony, may my children also stay on the right path and never leave the Faith. And if they have left the Church, please find them and bring them back!
Please, St. Anthony, intercede for my deceased relatives.